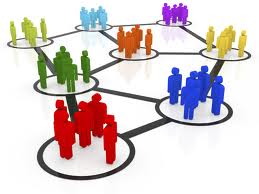 I attended a workshop on Google Plus this morning. Before I went along, I was a little sceptical, just as I was about Twitter two years or so ago. I am not sceptical any more. Let me explain why:
Chris Ogle is the driving force behind a business community called Link4Growth. I have been involved with Link4Growth for a year or so now, because I like groups of people that try to challenge 'the norm'. Chris Ogle delivered the workshop that I attended this morning. Here are a few ideas that I picked up this morning.
Google + improves our capability to participate
Why should I spend time on yet another social media platform? (It is that, but it is so much more than that)
Twitter and HootSuite are about conversation, Facebook is social with some business, Linked In is a 'traditional' business network, Google + is a new way of connecting, working and building relationships
G+ is about creating a platform to deliver what we will demand in the future
It will give you recommendations about who you ought to be connecting with
You can see people you know who are nearby
G+ wants to learn from us!
(By now you are probably thinking I have lost my marbles – I haven't, trust me, stay with me!)
Google are already piloting driverless cars to pick people up from airports in the U.S. (I didn't know that either, taxi drivers will be quaking in their boots!)
Google + wants to see who we connect and talk with, see what we're interested in and see what we publish – the more it knows about us, the better it can serve us – and that means if we use Google + well we will be doing our own search engine optimisation.
I have been blogging, tweeting and sharing information online for two years now, this will soon be the only way to get to the top of page 1 of Google – all the other SEO tricks will soon be redundant.
On Google + you create one profile and that becomes 'who you are' – what your passion is, in seven words!
Then, you will be found for your niche, be able to build influence, learn and develop, and give back and support others.
Google will assess from your online contributions whether (or not) you are an expert in what you say you are, and rank you accordingly.
These were just some of the tips I picked up this morning. It was enough to make me set a whole day aside next Monday to properly set myself up on Google + (I am already there but haven't done anything yet – a bit like an empty storefront).
Oh, and then there is Hangouts – I am planning to do some webinars this year with a business associate of mine and Google + Hangouts can be used for that purpose. You can have ten participants, but the invited audience can be unlimited, and private or public.
So, I will set myself up on there next week – Monday will be 'geek day' for me – and then I will invite some of my contacts to join me on circles there, for a start!