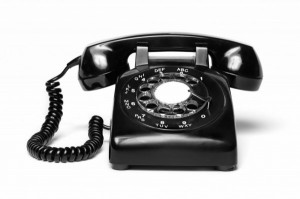 I will happily get up and speak for an hour or more in front of two hundred or more people, facilitate a question and answer session and ensure everyone has a great time and takes away something that they can do to make a change in their life. I have found writing a book a comparatively easy task, so much so that I will be starting on Book 2 as soon as the first book is out.
Now, wouldn't you think that someone who can speak in front of a large audience would be able to pick up the phone and introduce themselves to someone really easily? Well, I have news for you. Using the telephone – specifically picking up the phone and 'cold-calling' someone is my greatest fear. I know I have to address this fear if I am going to run my business successfully, but where do I get help from?
When I was looking to improve my public speaking skills in 2003 I joined Toastmasters International. I get so much more out of that organisation than I ever bargained for, and I know I will remain a member for the rest of my life. When I wanted to improve my physical fitness, I joined the gym around the corner from my home, and I go there for an hour nearly every day, with the result that at nearly 55, I am fitter and healthier than I have ever been. When I decided to quit smoking, I 'just did it' – no patches, no pills.
So, my question is: What do I do to overcome my fear of the phone? Is there any help available? I have set myself a target of making some calls this week, and I know I have to – but see, here I am writing a blog post about it instead of getting on with it! Maybe I need to be accountable to someone other than myself. What do you think? How have you conquered fears in the past?