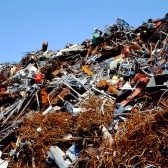 The other day I was out for a few beers with a friend of mine. Last year, he was made redundant by a company that he had worked for since the early 1980's. He has enough money to live on, but frequently does work that he hates just to get out of the house. He has used the expression 'on the scrapheap' to describe his situation.
In 2003, I was in a similar situation. I had worked in the same industry for 24 years, and a new manager came along, who didn't know me from Adam, and told me that I was not one of the people that she saw taking the business forward. I was offered the opportunity to take a backward or sideways step, and chose to step forward. My forward step was to take voluntary redundancy, and after a period of reflection, to set up my own training business. I knew that I had the skills, knowledge and attitude to help people deliver better customer service, and I was able to prove that to myself and others between 2003 and 2006.
In 2006, I went back into a 'proper' job, because my family circumstances meant that I needed to be at home more, so I applied for a job with a financial services company, intending to stay there for two years and then go back to self-employment. A combination of enjoyment and comfort encouraged me to stay there for nearly five years, then I realised that I was unhappy with my work 90% of the time, so escaped and have set up my own business again since November 2010. I'm determined to spend the rest of my working life helping people to achieve their goals, whether that be businesses who genuinely want to provide great customer service, or individuals who want to do things differently.
I met a man today at a 4Networking meeting in Bedford who is making his dreams come true. After a long career in teaching, he realised that he was not in the right career any more, and has set up his own business. He was also telling me the story of his battle against health problems, including how doctors had told him that he needed to have both his legs amputated, and he had disagreed with them. He still has both his legs, and still has dreams, aged 55.
So, if you are past 40, or any age, and your life is changing through no fault of your own, remember, the only person who has the power to put you on the scrapheap is you…!!