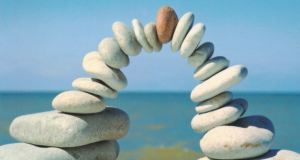 In 1979, when I was 23, I was diagnosed with testicular cancer. I had been to the doctor's twice, and the doctor had sent me away with medication. Eventually, my girlfriend insisted that we were going to the hospital to see what was wrong with me.
i will never forget the moment I was told that I had cancer. There were several doctors gathered around me, and one of them asked if I had anyone with me. I said my girlfriend was in the waiting room, the woman with bubbly blonde hair and jeans. After a few minutes, one of the nurses came back in to the room with my girlfriend. She is called Anne in my book, 'Growing Forward'
Anne had a very worried look on her face and I began to fear the worst. I didn't know you could have testicular cancer , so when the doctor told me that I had 'a tumour' and that I would need an operation, I was stunned. And then I saw the future, like a light at the end of a tunnel, and I knew this wasn't going to beat me. In amongst the dread and fear of the unknown, I felt a certainty that everything was going to turn out well in the end, and that proved to be the case.
Many years later, I was told, by a manager at the company where I had worked for 24 years, that I was not part of her vision for taking the company forward. A few weeks later, I accepted voluntary redundancy from a job that I had mostly loved. After a few days, I realised that there was a way forward. There always is. Nearly 14 years after that devastating assessment of my skills and ability, I have found new ways forward.
I encourage you to find your way forward. I'd love to help too. Contact me on 07766 916317 or at graham@grahamfrost.com