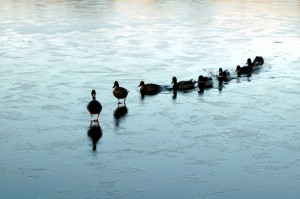 2011 has been an interesting year for me, one in which I have met a lot of new people, watched and listened a lot, and therefore perhaps learned a lot. Leadership has occupied my mind much in 2011. I have had the opportunity to practice my own leadership skills during 2011, as well as watch and listen to others. Here are some of the lessons that I have learned, not just in 2011, but throughout the past few years:
Real Leaders influence people in a positive way. Real Leaders build trust, create motivation, assume greater responsibility for outcomes and create the environment and spirit where other people can grow. Real Leaders also take bold stands. A Real Leader guides and coaches, is a catalyst for change, empowers and creates more Real Leaders.
For Pseudo-Leaders, it 's all about position, control, authority, technical expertise, talking, telling, giving orders, scaring people and being secretive. Does that ring any bells? Have you ever been 'led' by a Pseudo-Leader? How did it feel? How productive was the team, and for how long? Was the team divided into little cliques? Was more time spent on politics than on achieving the goal? Pseudo-Leaders assume that communication has happened, retain power, intimidate, drive, rely on reputation and look for short-term gain.
With Real Leaders, it's about action, support, mentoring, people expertise, listening, asking, relating, getting input, inspiring, motivating, informing and enlightening, creating consensus, getting feedback, empowering, coaching and sometimes accepting short-term pain in the interests of long-term gain.
A Real Leader will leave a legacy, they will be spoken about with respect for many years to come, because the achievements of the team come first. People are recognised frequently, rewarded often.
As 2011 draws to a close, two organisations that I am involved with and passionate about are riven with politics and the Real Leaders within both organisations are de-motivated, and in some cases leaving the organisation. In both cases this is being caused by Pseudo-Leadership. It's not just in business, it is happening all over the world of politics too. How many Governments internationally are led by Real Leaders, and how many by Pseudo-Leaders? What about your business or community? What about yourself, because we are all leaders to someone.
My hope is that in 2012 the Pseudo-Leaders will start to be found out for what they are and more Real Leaders will start to emerge and work their magic on the world.
I would like to thank George Thomas, DTM, International Director of Toastmasters International and Ted Corcoran, DTM, Past International President of Toastmasters International, for their presentation at the November 2011 Flourish Conference in Glasgow which inspired this article. www.toastmasters.org  www.d71.org