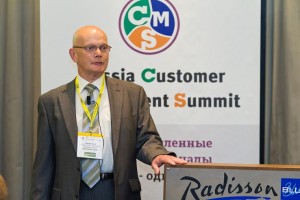 Here I am speaking at the Russia Customer Management Summit in June 2014, just to prove that I did get there eventually!
I am returning to blogging after an absence of several months, buoyed by my inclusion in GetApp's 15 most influential customer service experts to follow on Twitter. I am quite amazed and very grateful that what I regard as common sense should be seen as so influential.
A few weeks ago, I was at a Customer Service Training Network meeting at Metro Bank head office in London. They are one of my favourite companies because they are doing their best to do away with 'stupid rules', and they publicly say so too.
This brought to mind an incident that took place with my bank a few months ago. I was fortunate enough to be asked to speak on customer service issues at a conference in Moscow. It's quite a laborious process getting a visa to go to Moscow, and the conference organisers couldn't do it for me, so I had to go through the process myself. As I am self-employed, I had to provide copies of the last three months' bank statements, and online copies wouldn't do, they had to be printed off by the bank. I know what you're thinking, 'more stupid rules'.
I went to my local bank branch – I'm not going to name the bank but it used to be a building society in Yorkshire, England. I asked the lady on the front desk if it would be possible for me to have the last three months' bank statements printed off.
'We're not allowed to print them off here but we can order them for you'
'How long will they take to arrive?' I asked. I was thinking that I had to apply for the Russian visa very soon.
'Ten to twelve working days' came the reply. There was no eye contact involved. 'OK, they're ordered'.
We were towards the end of March and there were three bank holidays coming up, so I knew that would extend the wait, but I thought I would wait two weeks and see what happened. In the event, nothing happened. I rang the bank's contact centre.
'The records show that the statements were sent', I was told. 'Would you like us to send them again?'
'Yes please' I said, thinking that it would have been easier to go to Scotland, where the contact centre is, and get them myself.
A week later, the statements had still not arrived and I was getting perilously close to my Moscow trip. I was busy with training work and really didn't have the time to run around after the bank. In the end, I called the contact centre again while I was on a lunch break from a training delivery day in London.
'Have you tried going to your branch and asking them to print off the statements for you, Mr Frost?'
'Yes, I tried that at the beginning, but they said they weren't allowed to do that'
'Oh, well, they can if it's an emergency…'
So I went to the Liverpool Street branch of the bank in London and told my story to a very pleasant lady there. She immediately printed off my bank statements. I was in the branch for no more than two minutes. It doesn't end there. When I arrived home, there were a set of statements that had arrived in the post, with the previous day's post mark on them.
I thoroughly enjoyed my trip to Moscow and it was a great experience speaking at the conference there, but I wouldn't recommend you go to Moscow if you are self-employed and bank with my bank!
What stupid rules have you come across that get in the way of satisfying customers?